Origami Flowers, Book Review
by Soonboke Smith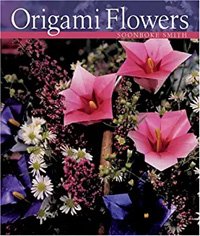 Origami Flowers
 by Soonboke Smith is 128 pages long and gives instructions to make 33 beautiful paper flowers. The first 30 pages are devoted to preliminaries such as introduction, tools, symbols, and basic folds. All projects are described with color photos with super-imposed dash-dash-dash lines. Completed flowers are shown individually (close up view) and in a bouquet (floral display).
This is a wonderful book which teaches you how to make paper flowers. Notice how I say "paper flowers" and not "origami flowers". This is because the flowers made in this book utilize many tools which most origami artists do not consider apart of traditional origami. These include scissors, glue, markers, pinking scissors, paint, and artificial stamens (for center of flowers).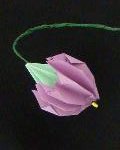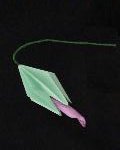 Indeed, Soonboke Smith does not stop there: many of the flowers in this book are not made from a single sheet of square paper: some use multiple sheets of paper while others are made with triangles, pentagons, or circles. For those who are interested in embarking on this journey, get out your arts & crafts box because you will also need need floral tape and floral wire.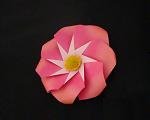 Beware pure origami artists!
For those who are 
pure origami
 artists, the ample use of glue may be unforgiveable. Similarly, many of these origami flowers look amazing because of the strategic use of 
harmony origami paper
. In addition to making the flowers look pretty, the colors become an integral part of the floral structure.
Shape:
These flowers were made with paper in the shape of circles (Giving Thanks), triangles (Elegant Irises), and pentagons (Petunia Kaleidoscope).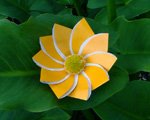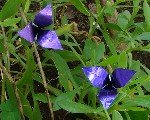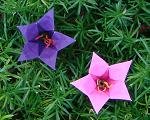 Stamens: Note the difference in appearance when artificial stamens (centers of the flower) are used (Lovely Lilies & Crazy Cosmos).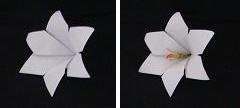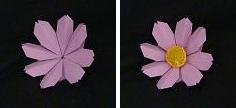 Pinking: A rather plain paper flower can be enhanced by using pinking scissors
to give a wavy edge (Sweet Carnations and Periwinkle Patch).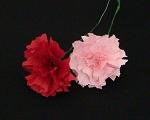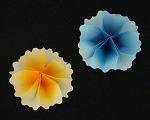 Petal number: flowers with five petals can be achieved by using 5 sheets of paper as in the case of Perfect Peonies (left). Or they can be made with one sheet of paper that is in the shape of a pentagon (Blooming Starfish; right).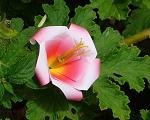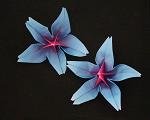 Pinwheel Daisy is a rather complex-looking, multi-petalled flower: surprisingly, it is made with only 4 sheets of paper (left).
The 8 petals in Flower Firework is made with 2 sheets of paper, each sheet producing 4 of the 8 petals (center).
In contrast, the Starburst Dahlia is made with only one sheet of paper (right).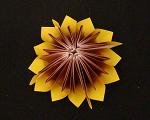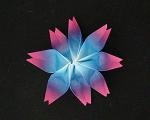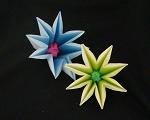 More additives: A traditional iris flower is enhanced with spots made with a marker. Similarly, Paul Jackson's 4-Petal Buttonhole flower is made fantastical with the use of a pearl bead and swirly-swirly paper.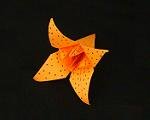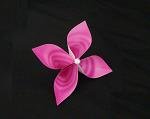 Summary: if you're not an origami snob who pooh-poohs the use of aides, then this book is for you! The instructions are easy to follow, the photos are in color and are very well done. There are 30+ satisfying projects which produce a range of different looking flowers. Origami Flowers by Soonboke Smith is also technically interesting in that it utilize a variety of techniques such as reverse fold, squash fold, rabbit ear, and sink fold [Cute Clovers].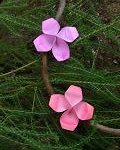 However, if you are looking for origami flowers in the pure sense, then this book may not be for you. Smith is not shy in using tools such as glue, scissors, and markers. She also strays from the traditional style by using multiple sheets of paper or using paper of different shapes. The use of silk (arificial) stamens greatly enhances the final appearance of the flower – though some might consider this "cheating" since these store-bought elements are clearly not origami [Rose Bouquet].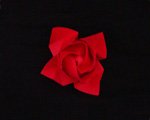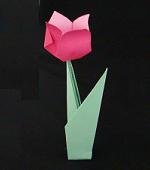 Click below to see photo of origami flowers: