Kirigami Menagerie
by Hiroshi Hayakawa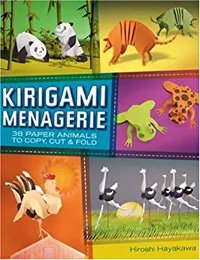 Kirigami Menagerie
 by Hiroshi Hayakawa is an interesting and innovative book on paper crafts and sculpture. Hayakawa does a wonderful job in capturing complex animal postures into simple plain paper. With minimal tools, he brings life to paper.
This book has 38 projects which produces
reptiles such as frog, cobra, alligator,
birds such as ostrich, owl, cardinal, rooster,
domestic animals such as mouse, cat, dog, rabbit, sheep, cow, pig, horse, crab, and
wild animals such as armadillo, panda, cheetah, lion, tiger, elephant, hippo, rhino, zebra, giraffe, kangaroo, chimpanzee, gorilla, dragon.
Shown: Giraffe in white card stock. Note the cut-out hide-pattern.
Tools needed include a photocopier, card stock, scissors, exacto knife, and a scoring device such as an awl. Easy projects can be finished in 15 minutes and look quite impressive despite their ease. Advanced projects will take an hour or more to complete and require fine detailed cutting and folding. Each project is accompanied by
• a template for photocopying;
• a page of written instructions;
• and colored photos of the finished model.
In terms of instructions and directions, this book is complete. [Shown: Panda bear on white photocopier paper with black marker coloring.]
Kirigami Menagerie is not a child's arts and crafts book. This book is really for adults and only an exceptionally skilled child would be able to make the paper sculptures. Almost all projects require the use of an exacto knife, thus care must be observed when working and especially so when children are involved. [Shown: Tiger on amber card stock.]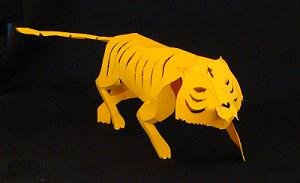 Glue and tape are not needed: paper is held together with cleverly located interlocking slots and tabs. In some cases, whole punchers are useful to make eyes or cheetah spots. Advanced projects require fine detailed work that will challenge even an adult (150 small triangular cuts to make scales on a dragon; cutting slivers of paper ⅛ inch wide for zebra stripes). [Shown: Owl in thin, Japanese paper.]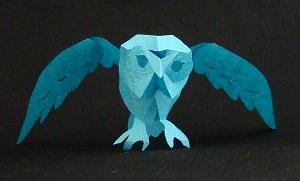 This book has 2 disadvantages. First, the book provides templates which you photocopy and then cut out. This feature is good in that you can re-use the templates over and over again. However, it is somewhat inconvenient since it requires that you make a special trip to a store to have the photocopies made. In addition, the projects work best with card stock. Thus, in addition to making a special trip to the photocopy store, you also need to hand feed the card stock into the photocopier. [Shown: Cardinal on heavy-weight photocopier paper.]
A second problem with the book is that the color photos show speckled frogs, black and white panda bears, and snakes with scales. However, when you photocopy the templates onto card stock, it is on a single colored sheet. As such, the photos in the book are somewhat deceptive since the projects you make will not have the patterns shown in the photo. You can bypass this problem by downloading the [patterns here] (no longer available). So, now, your prep work is in two steps: print the the hide-pattern then photocopy the template onto the same card stock. [Compare frog with and without downloaded skin-pattern.]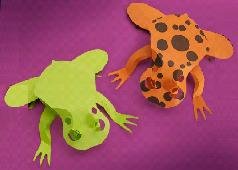 Summary
All in all, Kirigami Menagerie is a wonderful book with clear instructions, beautiful photos, and doable projects which produce satisfying results. Hayakawa does an excellent job in condensing complex life forms into simple paper constructs. Be aware that this book is not suitable for children and it requires that you do a little prep work (photocopies) before the fun begins.