The Guide to American Money Folds
by Jodi Fukumoto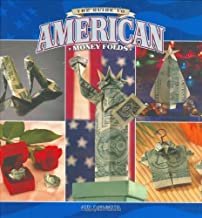 The Guide to American Money Folds by Jodi Fukumoto is an intermediate level origami book which uses USA dollar bills for folding instead of paper. This book:
• is 101 pages long, the first 14 pg is introductory material;
• has instructions for 17 dollar bill origami models and 2 boxes;
• has a color photo of the model at the front of each project;
• and uses "origami diagrams" which have arrows and dotted-dashed lines to show the folding sequence.

Shown are: Turtle, Lucky Frog, and Starfish. If you love dollar bill origami, then this book is for you, it has some great models that are "intermediate" in difficulty. Fukumoto is famous for her attention to detail, this some of these models are more difficult than expected because of the small details.


Shown are: Eagle, Angel, and Butterfly. These models are more like art forms and should be made with love and patience. They are not quick-and-easy dollar bill folds that you make and leave at a restaurant as a tip.


Shown are: Shirt, High Heel Shoes, and Teddy Bear.
In making the teddy bear, a toothpick is used to open the nose layers to give the teddy bear nostrils. In the high heel shoes, clamps or paper clips are used to set creases before continuing the project.


Shown are: Rose, Flower, and Four-Leaf Clover.


Shown are: Pineapple, Christmas Tree, Traditional Ring, and Heart Ring.
Dollar bill Christmas trees are common but one with the star on top is truly an original.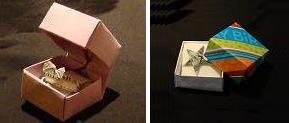 Also included in The Guide to American Money Folds are instructions for Ring Box and Square Box. These can be used as gift boxes for the $origami models presented in this book.
Many of the "steps" in this book are really two or three steps shown in one image. This can be a challenge for beginner folders who need a one-step-at-a-time approach. However, Fukumoto clearly divides each instructional step into parts A) B) and C). As well, the lines are colored blue, red or black so readers can use these color codes to decipher the instructions. [The Statue of Liberty
requires 2 one dollar bills and takes 41 steps to complete.]
That being said, folding money has its own set of challenges:
– dollar bills are small in size; and
– they do not hold creases well (they tend to spring
back up instead of staying folded down).
Please note that six of the models are repeated from The Guide to Hawaiian Style Money Folds.
Summary of American Money Folds
The Guide to American Money Folds has some amazingly wonderful dollar bill origami models. In particular, the high-heel shoes, the Statue of Liberty are quite profound. Even the Christmas tree WITH the star on top is quite unique. Though it may not be obvious to the casual reader, the four-leaf clover is probably one of the best origami shamrocks in existence today. All in all, a very good book; though, the models are challenging to fold so buyers be aware.