Link of the Week 2013
 
Origami blog 2013: cool, interesting, and noteworthy tidbits of information related to origami or paper folding:
---
September 2013:
This walk-through art installation is called The Wind Portal and it features 5000 paper windmills. The project was created by Najla el Zein and it uses wind and sound to represent "memories and inspiration".
The Wind Portal was shown in the London Design Festival 2013 from September through November. Read more here.
[Enlarge Photo]
---

August, 2013:
This month we are humbled by the discovery of a Target commercial. Target is a somewhat mundane department store in USA, Canada, and India.
However, this commercial is far from mundane. It is artistic, it is beautiful, it is origami-inspired! It is like no other Target commercial I've ever seen. Take a look here. The advertisement was shown during the 2010 Golden Globes Award ceremony.
Please note the fabulous dancers are from dance company called Momix.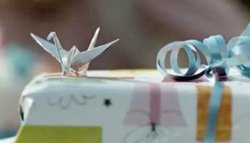 Speaking of great videos, Extra Gum produces a must-see, heartwarming video about a father, his daughter and how they keep connected via paper cranes made from foil gum-wrappers. See video here or see more candy wrapper origami here.
---

June, 2013:
This Origami Crane Skeleton is both weird and freaky, I just HAD to mention it.
If you look at an origami paper crane with a fresh eye, you will notice that it doesn't look like a crane at all. With the prominent wings, you could say that it was a bird – perhaps a prehistoric bird? And that big tail: could it be a dinosaur of sorts? What creature would have such a big tail and still fly?
The concept of the origami crane is a cultural one; we have been conditioned to believe it to be a crane even though it clearly does not look like a real crane.
Going a step further, Joaquin Baldwin made a skeleton of the paper crane using flexible plastic and a 3D printer. It's definitely creative: a 3D skeleton of a nonexistent creature which is made of a flat sheet of paper. Wow!
---
May, 2013:
The tessellated origami structure named "Magic Ball" was designed by Yuri Shumakov and it originally served as a "Dragon's Egg". BioroboticsSNU (Seoul National University) uses origami Magic Balls as wheels for a vehicle. The wheel can change size via actuators (electric current). This is a cool and innovative way to use origami forms; I envision this idea being used in rough and unknown terrain like that found on Mars. Watch video here and here.
---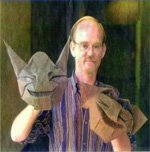 April, 2013:
This day we are sadden by the lost of origami paper artist and sculpturer, Russell Sutherland. Russell is famous for his wet-folded masks, busts, and crumpled tissue-paper flowers (see them here). Shown on the right is Russell with his origami gargoyle puppets. Photo from San Antonio Express News.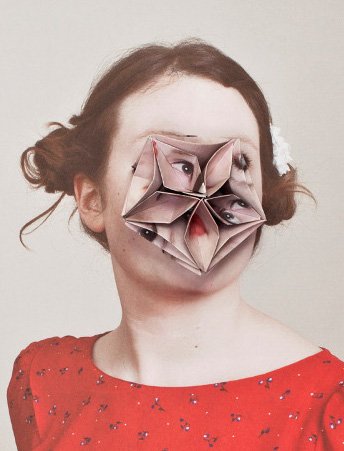 April, 2013:
Alma Haser's artwork, "Cosmic Surgery" has been around since 2012 but in April, 2013, her photographs were featured in BLINK Magazine (Korea, issue 22). She created these composite images by photographing people and then folding the photos into origami polyhedra. She then superimposes the origami models on top of the original photo and re-takes the photo. See her work here (click "next" link).
---
March, 2013:
Here is another wonderful discovery. Photographer turned paper artist, Luciana Frigerio, folds the pages of books into fabulous and inspirational book sculptures. These amazing works of art can be purchased at her etsy store or you can see her photographic talents from her web site.
Basic instructions to make your own book art can be seen here or see similar work by Isaac G Salazar.
---
February, 2013:
It is with great sadness and regret that we announce the passing of David Lister. David was a founding member of the British Origami Society and an authority on the history of paper and paper folding. You can read his articles from Lister's List.. He will be greatly missed. Photo from BOS.
---
January, 2013:
Li Hongbo, a Beijing book editor turned paper artist, glued together thousands sheets of paper to create flexible paper sculptures. The sculptures are perfectly centered so they appear solid like plaster or stone; however, the sculptures are not solid, they can be splayed open like the pages of a book. See a video demonstation from Dominik Mersch Gallery. Read more about him or watch another video.
January, 2013:
Charles Santee made this dollar bill origami bracelet with three $1 bills, one $10 bill, and one $20 bill. You would think that the bracelet is worth $33. But not so, the cubes have hidden coins within so the bracelet is really worth $34.50. Honestly though, can you really put a value on art? Watch the video here or see more of his unique projects here.
---
Do you know of any more origami sightings?
Let us know
!
Many of these images are from the internet: they have gone viral without clear indication who is the rightful owner of the photo. Let us know if you want your photo removed from this site.