Easy Origami Ladybug
Ladybugs are so cute and this easy origami ladybug is no different. The best part about this paper ladybug is that it is so easy to make: you can fold yourself a collection in no time!
You can make the model with a square sheet of paper, but if you cut it in half and start with a triangle, you will be able to make twice as many. The paper should be red on both sides. Have a black marker in hand to make the black spots.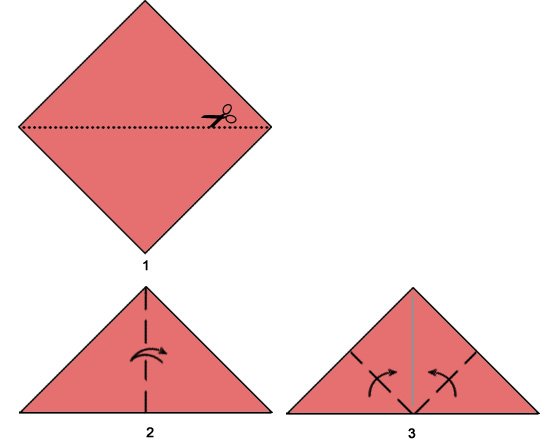 Start with a square sheet of paper that is red on both sides.
Cut it in half along the diagonal to get an isosceles triangle.
Fold triangle in half and unfold.
Fold up the two bottom corners so the corners meet at the peak of the triangle.

Fold the two corners back down, except fold them at a bit of an angle so the corners are slightly away from one another like the wings of a bug.Keep in mind that the hard, outer shell of a ladybug is usually in the closed position. It is only when they are flying that the red shells are far apart from one another.
Fold down the top of the model; don't fold down exactly in half, leave a small gap as shown. Unfold
Make this flap more narrow by folding it in half.

Fold in half one more time.
Re-fold the flap along the crease made in step 5.
Fold back (mountain fold) the left and right sides of the model. Keep in mind that ladybugs tend to be more oval shaped and not elongated like a wasp.

Fold the left and right sides under so the body is not so angular.
Fold the tips of the outer shell "wings" so it is less pointy.
Give the bug a bit of shape, fold the body of the ladybug down and away from the wings. Dotted line is x-ray vision; it shows folding of lower layer.
Ladybug is pretty much done. Use a marker to color the head black and put spots across the ladybug's back.
Easy Origami Ladybug is done!