Chocolate Wrapper Origami
These chocolate wrapper origami models are dedicated to those who love chocolate and origami.

Halloween temptations = Christmas decorations.
Nick Robinson's Modular Star.
Origami Stars here.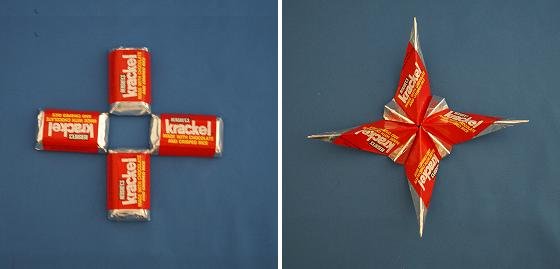 Paul Jackson's Star from The Ultimate Paper Craft and Origami Book
.

Paolo Bascetta
's Roulette from Amazing Origami.

Tomoko Fuse's Twinkling Stars from Home Decorating with Origami

Spikey Star (front and back)
Origami Stars and Wreaths here

Platonic Solids:
Tetrahedron
Cube
Octahedron
Dodecahedron
Icosahedron
Herman van Goubergen's Curler Units.
Modular origami diagrams here.


Hershey's 2-Piece Chocolate : Kasahara's 2-Piece Cube from Amazing Origami.

Sonobe 12-unit Stellated Octahedron.
Standard (L) and reverse (R) assembly.
Modular origami diagrams here

Polyhedra Kits by Miyuki Kawamura from Polyhedron Origami for Beginners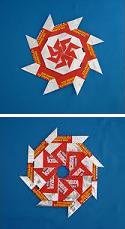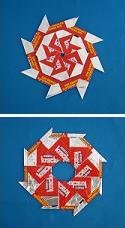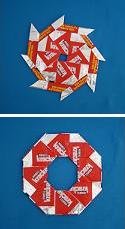 UFO by Robert Neale
Action Origami diagrams here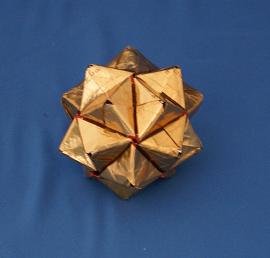 Sonobe 30-unit Stellated Icosahedron.
Modular origami diagrams here
Fluted Diamond
Molly Kahn

Modular Decoration 1
Paul Jackson

Modular Decoration 2
Paul Jackson

Hanging Ornament
Tomoko Fuse