Autumn Origami : Fall Season
Autumn Origami is a page dedicated to images of the fall season:
  – leaves changing color,
  – bare tree branches, and
  – year end's harvest of pumpkins & squash.
These are followed by images of Halloween and Thanksgiving.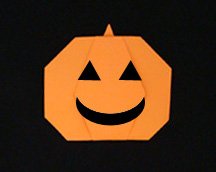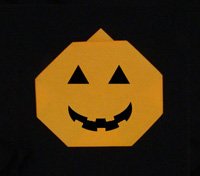 Pumpkins and Jack O Lanterns
Pumpkins are a classic symbol of the Fall Season. In October, pumpkins turn into Jack O' Lanterns
A little easier:
A little harder:
Turkey
In USA and Canada, you can't think of autumn without thinking of turkeys/ This is because the traditional Thanksgiving dinner in November features a roasted turkey.
Turkey: 1 , 2 , 3 , 4 (AF Barbour)
Turkey (J Ku)
Thanksgiving Turkey (A Hudson)
Swan/Turkey (ORC)
Table Napkin Turkey (nola.com)
– origami snowflakes
– origami Christmas
– free origami instructions
– Home Page
– Site Map