Basic Origami Wedding Band
Learn how to make a basic (easy) origami wedding band using paper. This model looks like a wedding band with foil paper
and like a friendship ring with washi or chiyogami
.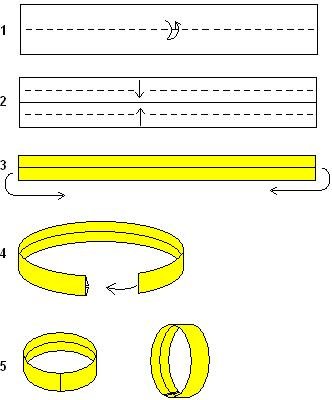 Start with a strip of paper that is about 1″ x 4″ (0.75″ x 3″ for small fingers). Fold in half lengthwise, unfold.
 
Fold the top and bottom edges towards the middle crease.
 
Bring the left and right ends together forming a loop.
 
Insert one end into the other.
 
Adjust size to fit finger (if necessary, cut off excess paper). Round-out the loop, wear it with the point of junction pointing down.