School Teachers Fold
This School Teachers Fold was conveyed to us by Dave Hawk. He recounts the days when he was a schoolboy in England and the teachers would write notes for the students, fold them up, and then clip them to their note books. The notes were written on 3″ x 8″ note slips of paper. Original method of School Teachers Fold used paper that is 3″ x 8″ in size but a different sized rectangle also works.
Back in the 1970's, before the international standard A4 was adopted, Europe's standard-sized writing paper was 13″ x 8″ in size and it was called a "foolscap" (see below for explaination of foolscap) . Printers made business letterheads to be 10″ x 8″ and have a leftover piece that is 3″ x 8″. This leftover sheet can have the business letterhead printed on it and it serves as a "compliment slip". Or, the leftover pieces are sold blank as "note slips". In some ways, they serve a similar function as today's post it notes
– small peices of paper used to write quick notes.
School Teachers Fold – Diagram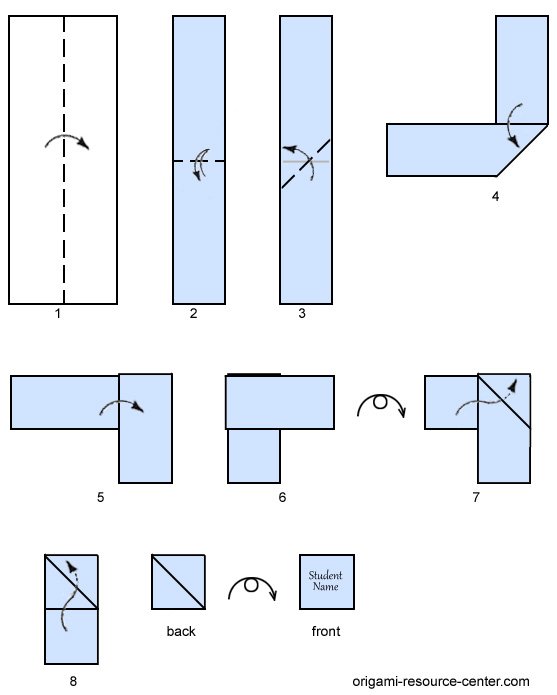 Fold the paper in half lengthwise.
Fold in half crosswise. Unfold. This gives you the center crease.
Fold the bottom half of the paper up and towards the left. Make the fold across the central crease.
Fold down the top half of the paper.
Fold the left arm of the paper towards the right.
Turn the paper over.
Fold the left arm of the paper towards the right and tuck it under the existing layer of paper.
Fold up the bottom arm of the paper and tuck it under the existing layer.
Done! You can write the student's name on the front side of the folded paper.

– more letterfolds
– free origami instructions
– Home Page
– Site Map

Where did the Term Foolscap come from? The term foolscap is from the watermark used on paper to designate that size of paper. The watermark was a picture of a jester; later it was simplified to a cone representing a dunce hat = a fool's cap. Image from National Gallery of Australia