Origami Love Knot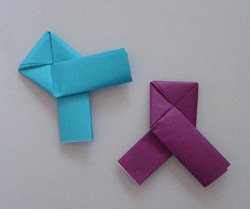 The Origami Love Knot is sometimes called Lovers' Knot but there is actually two different origami models which use both names. This one uses a strip of paper and is easier to make.
Have you ever wanted to slip someone a note? It doesn't have to be a love note, it could be a simple message which you want to keep somewhat private. This origami model will do the trick for you. You fold your message into a strip of paper, then you fold it into a knot. The paper (and message) stays closed so it can be delivered without the messenger taking a peek at the contents.
Origami Love Knot Instructions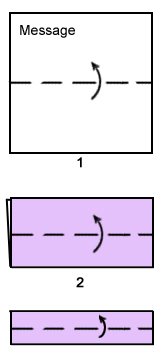 Write a message onto a sheet of paper. Any shape is OK, but the example shown here is a square.
Fold the paper in half so the message is not visible.
Keep folding the paper in half until it is a narrow strip. The ratio of width to length should be 1:8 or longer.
For a square, you can fold it in half 3 times and it will be good.
Fold the strip of paper in half crosswise. Unfold. This shows you where the middle of the paper is.
Fold the right side of the paper down. Position the fold so the crease falls across the middle of the paper. Observe movement of red dot for help.
Mountain fold (fold behind) the left side of the paper (watch green dot).
Fold the right side of the paper across so it overlaps with the left side of the paper.
Switch the position of the paper: bring the top section down and bring the lower section up. This locks the model so it doesn't unravel.
Write something on top so people know who the message is for.
– make the other love knot called lovers knot
– more origami hearts
– more letterfolds