Yoko's Paper Cranes
by Rosemary Wells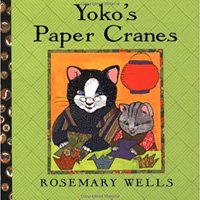 Rosemary Wells' Yokos Paper Cranes is an endearing story about the love between a child and her grandparents: love that extends beyond a great ocean.
Written with choice words and simplicity, children will adore this story about Yoko who grew up in Japan with her grandparents, Obaasan and Ojiisan.
As a young girl, Yoko enjoyed feeding the cranes in Obaasan's garden pond. In the winter, when the cranes fly away, Yoko folds paper cranes with her grandfather, Ojiisan.
When she grew up, Yoko moves to America. She misses her grandparents and the peaceful times she spend with them. Although Yoko could not go back to Japan to celebrate Grandmother's birthday, she expresses her love by sending 3 paper cranes which she folds from special Japanese paper.
For those who know Rosemary Wells' books and characters, this book does not disappoint. Yoko's Paper Cranes is a prequel to her earlier book Yoko and her other adventures.
Yoko's Paper Crane: Illustrations
The artwork is typical of Rosemary Wells' work with the soft, kind faces and round, huggable bodies.
In addition to her usual style, Wells recruits the expertise of Johanna Hurley, a person described as a "Master Cutter of Japanese Paper".
Indeed, this picture book is filled with patterns often seen in traditional origami paper.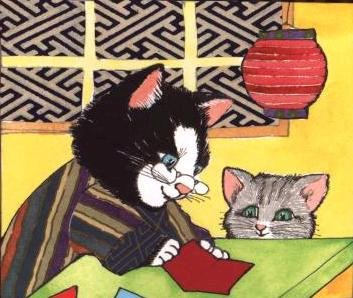 Photo from Wikipedia
Extras
Instructions on how to fold a paper crane are embedded in the storybook as a border. One might think that they're decorations, but those in the know will recognize the dashed lines and arrows as cleverly designed origami instructions.
Illustrations also include scenes with snow-covered Mount Fuji and crashing ocean waves similar to those by Katsushika Hokusai (1760–1849)