Paper, Scissors, Sculpt!
by Ben A Gonzales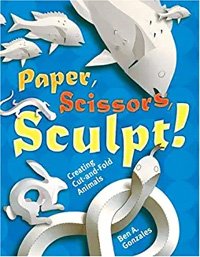 Paper, Scissors, Sculpt!
by Ben A Gonzales is an example of "beauty in simplicity"! I highly recommend this book: it provides instructions to make beautiful paper sculptures with minimal effort. A child (with adult help) can make these!
The book begins with an introduction on this cut and fold art form which Gonzales calls "Gupit-Gupit". The language and style is very relaxed making you feel like you were working with a dear friend or a good teacher. The next 7 pages is devoted to techniques and materials needed. Materials include household items such as paper, pencils, scissors, a scoring device, and glue/tape.
This book has directions for 25 projects all of which are animals. The projects are designated as:
star (basic): snakes, lizard, bat, butterfly, shark, swordfish;
stars (familiar with basics): whale, fishes, bear, hippo, swan;
stars (familiar with basics plus experience): rabbit, squirrel, turkey, peacock, duck, pelican, T-rex; or
stars (inspired): stegosaurus, kangaroo, snail, giraffe.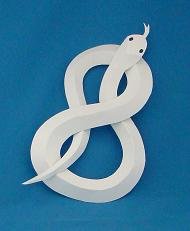 All projects have a template which you can either photocopy or trace onto your working sheet. The author gives you multiple ways which you can transfer the template image onto your working sheet.
In the first few projects, you may need to use the instructions to help you along, but after you have made a few of the paper sculptures, you will find that the instructions are not really necessary.
Gonzales does an excellent job in making theses crafts simple. So simple that children can make many of them.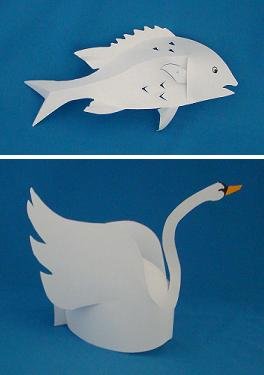 Projects include:
– a template for photocopying,
– instructions in the form of text & line drawings,
– and a photo of the finished model.
"Basic" projects are mostly flat: they have contours and dimensionality; but for the most part, they are to be displayed laying down with one side visible. The more advanced projects are truly 3 dimensional and can stand upright with all sides of the model visible.
The paper recommended for these projects is 80 lb paper; though, all models shown on this page were made with heavy weight photocopier paper. Heavier weight paper will allow the models to stand up right whereas office paper maybe be a bit flimsy especially for the "inspired" projects.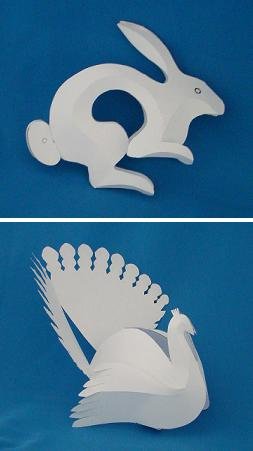 Easy projects can be accomplish in about 15 minutes. Inspired projects will take more than an hour. Though, the difficulty is not due to new techniques or specialized skills. The "difficulty" comes in taking the time to cut around details (such as the spikes on Stegosaurus) or in slowly folding (millimeter by millimeter) the whorls around the snail's shell.
Slipped in between projects, Gonzales has tidbits of information which are fun to read and a pleasant change from the instructions,
At the end of the book, he shows some of his own advanced projects. It is amazing how a few cuts and folds can produce such amazing paper structures. Gonzales is an accomplished paper artist, his writing style is very comfortable, and the projects he presents in this book are well chosen: easy to make and looks fabulous.