Origami from the Heart
by Florence Temko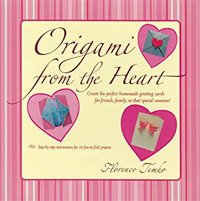 When I first picked up 
Origami from the Heart
 by Florence Temko, I thought it was going to be a book about making origami hearts. Not so, this book gives instructions to make only 2 heart-shaped origami projects: the "Stand-up or Send-it Valentine", and the "Folded Money Heart".
Most of the projects in this book involve folding paper into letters, notes, envelopes and other greetings. The simplest is the "Seal It with a Heart Valentine". This folded note is not locked, so a sticker or a piece of tape is needed to secure the flaps. Similarly, "Just For You" does not have a locking mechanism, but the paper is cleverly folded so your message is hidden within.
The "Diamond Note" creates nice lines out of something that might have been otherwise quite plain. "Envelope for Any Note" can be used as an envelope, or you can fold your letter directly into the envelope.
"Mystery Note" (yellow) allows your letter to be folded into an attractive package instead of the usual fold-into-thirds method. Similarly "Let our Friendship Grow" (green) uses a regular piece of paper and folds it into a unique shape with a self-locking mechanism. Like an envelope, it can hold small items within.
"Notes with Pockets" (green) is a great way to send a message and slip in something extra on the side pocket. The "Love Knot" (red) looks similar but is folded in a completely different way. Indeed, the Love Knot is "tied into a knot"
Talk about tying knots, the "Unfold Me Secret Note" (pink) is a trick: it is folded in a special way such that it is a challenge to unfold without tearing it.
The remaining origami projects in this book include:
  – Photo Frame,
  – Flower Power
  – Rosette Card
  – Card that's an Ornament,
  – and Two Love Birds.
Running out of paper? Don't worry, Origami from the Heart comes with 48 sheets of double-sided origami paper. These sheets are square, colorful and have patterns on them. Of the projects in this book, half use a square sheet of paper and the other half uses a rectangular sheet of paper.
Summary
Like many of Florence Temko's publications, this origami kit is user friendly and geared towards the general public. The models are easy to fold allowing beginners and children to enjoy the art of paper folding. All the projects produce quaint results that are fun and not too complicated.
More than half the projects are folded envelopes, letters, messages or notes. It's really an origami book about sending notes from the heart.