The New Paper Quilling
by Molly Smith Christensen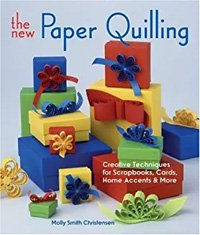 "
The New Paper Quilling
" by Molly Smith Christensen is a hard cover book with over 125 pages. Within these pages you will find basic techniques and instructions for 30 quilling projects. The color photographs are of high quality: both in terms of photography and craftsmanship.
This book has a very thorough description of the basics:
quilling tools: paper, slotted quilling tool, glue, crimper…
basic shapes: circles, teardrops, crescent, scrolls,…
techniques: crimping, fringing, chalking, embossing,…
One of the things I like best about this books is that Molly Smith Christensen is not afraid to take quilling one step beyond the usual. She uses quilling in clever home decorating projects. Some are typical, such as greeting cards, while other are elaborate and involve multiple pieces and steps.
Here are a few select projects from this book:

Tulips: instructions on how to make the stem included (bonus!)
Beautiful Bows: these are large enough to put on top of a gift box.
Summer Candle Ring: these adorable watermelon slices are used to decorate the base of a pillar candle.
Special Occasion Cards: Christensen's ideas on how to make a unique card are noteworthy. Just looking at her work ignites my creative senses.
Sunny Sunflower Wreath: this cool sunflower is used to decorate a wreath that hangs on your door.
Funky Faux Flowers: a little more work intensive, but results are absolutely fantastic. These chrysanthemums are made in a manner similar to a fringed flower except that the fringes are curled inwards.

Versatile ABC's: includes two ways to make quilled alphabet: "Filliped" or "Circle" alphabets. Templates are included to guide you to perfect ABC's.
Ladybug Garden Hat: these little ladybugs are big enough to use as a trim around a summer hat. Ideas on how to make leaves included.
Carmen Miranda Magnets: a delightful way to make your refrigerator door useful and beautiful. Quilled fruits like this pear are made into magnets.
Dazzling Paisley Mobile: are these paisleys not amazing? Even more so when they are strung up into a mobile. Easy to make yet stunning to the eye.
Tres Chick Trio of Dresses: Christensen continues with larger home decor projects. Instructions for this dress, and two others, include templates to help you along. The dresses can be framed to accent your home.
This is just a fraction of the projects in the New Paper Quilling. You will just have to buy the book and see the rest for yourself – believe me, it's worth it! Definitely one of the better quilling books on the market: great to thumb through and great to learn from.