Minigami
by Gay Merrill Gross
Minigami
 by Gay Merrill Gross is a delightful book teaching you how to make 50 small-sized origami models suitable for greeting cards, note cards, gift tags, and decorations.
The origami models presented here are surprisingly simple yet look quite stunning. Gross has collected some of the finest mini origami models from across the globe: Argentina, Australia, England, France, Japan, and USA.
Minigami is 144 pages of folding-fun organized into six chapters; but in essence, it has instructions to fold:
– cards, envelopes, and paper pockets (tatos),
– origami models to decorate the cards, and
– modular decorations.
Projects are mostly categorized as "simple" or "low-intermediate" with a few "intermediate" projects at the end of the book. Even so, nothing terribly difficult especially since the instructions are very clear. Not all projects are shown, but the ones below are a good representation of what the book contains.
The first 17 pages of the book are devoted to introduction and materials & methods.
After that, Gross teaches you how to fold card stock into creative patterns where origami models can be placed upon. Some of the card folds are simple such as the classic Quarter Fold, yet other are quite unique (Peekaboo Fold, Fan Fold). [Shown: Penguin, Twist Fish, Santa, and Flower]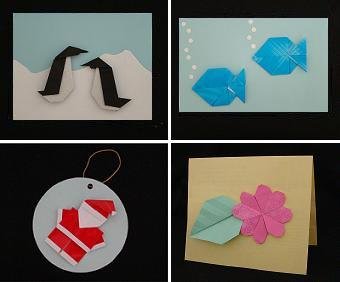 Shown are:
Party Dress, Two-Toned Dress (with hats/purse), and Tulips
Ducks on Fan-Variation Card, Simple Hearts on Peekaboo Card, and Simple Sailboats on a Fan-Variation Card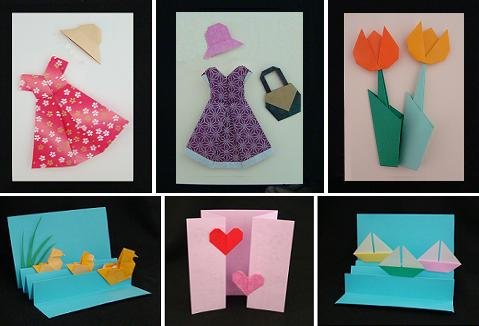 Gay Merrill Gross offers a chapter on stars and wreaths which are made with more than one sheet of paper; this type of origami is called modular origami. These shapes can be used as decorations on a tree or a greeting card. Some can be used as bookmarks or page-corner holders.
Shown are:
8-Pointed Star, Star Wreath, Florette, and Button Flower Ornament
Rosette, 6-Pointed Star, Butterfly Corner Clip, and Button Flower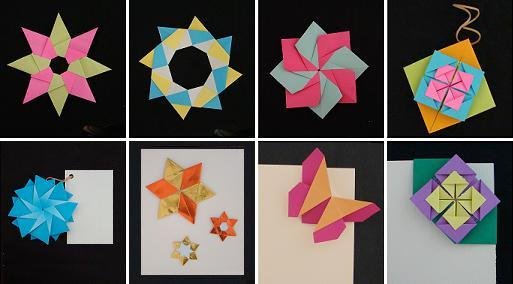 Minigami has quite a few interesting envelopes, letter folds, paper pockets, and tatos. Tatos are traditional Japanese envelope packets folded from paper. These are typically used to store small items such as buttons and needles.
Shown are:
Flower Tato (blossom), Pinwheel Tato
Flower Tato (star), and Pleated Triangle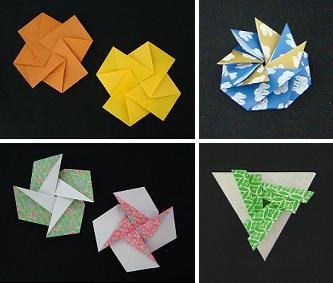 Shown are: Leaf Note Card, Star Card, and Bird Card.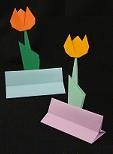 Shown: Standing Pockets with Tulips