Little Oh
by Laura Krauss Melmed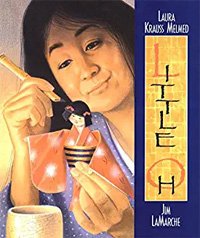 Little Oh
by Laura Krauss Melmed is one of my all time favorite origami related picture books. Unlike some of the other picture books, this one is designed for a slightly older audience: about 8 years old, plus or minus some. Even as an adult, I am swept away by the storyline which includes a series of dangers and near misses. Just when things look like they will work out, another challenge presents itself.
The Story
A Japanese woman (Mother) folded a piece of paper into an origami girl. In the night when the woman is sleeping, the paper girl miraculously comes alive. The woman exclaims "Oh!" and as such, the tiny paper girl is named "Little Oh". She can speak, sing, dance, and bring joy to her mother.
One day, Little Oh goes to the market with her mother. Her curiosity causes her to be separated from her mother. Little Oh encounters difficulties such as a hungry dog, a raging river, and rain. What is a paper girl to do? In the end, she befriends a crane who flies Little Oh back to her home village.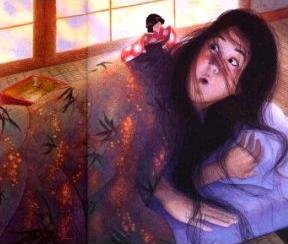 Unfortunately, the crane delivers her to the wrong house: this house belongs to a boy and his father. Like Little Oh and her mother, this Father and son pair was missing a partner.
Using her whits, Little Oh manages to unite the Father and son with her mother and herself. In doing so, Little Oh is transformed into a true human being: a little girl.
The Illustrations
A pat in the back to Jim LaMarche for creating life-like and dynamic illustrations to complement this story. Acrylic paints and color pencils were used to create the vivid images.