Jewish Holiday Origami
by Joel Stern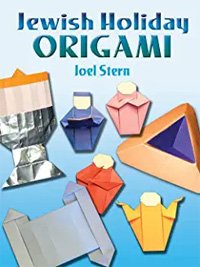 Jewish Holiday Origami
by Joel Stern is 64 pages in size and contains instructions for 24 origami models. The book is organizes so that the easiest models are listed first and the more challenging models are listed last. However, the models are also listed according to each holiday. Each project is accompanied with a short paragraph describing how the origami model is related to the holiday in question.
To celebrate the Sabbath, you can make a paper prayer book (Siddur), Sabbath candles, Kiddush Cup and a Sabbath Table. The Kiddush Cup is made with two sheets of paper.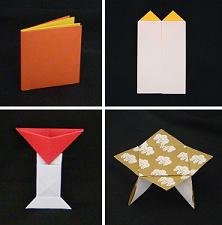 To celebrate Sukkot, you can fold two figures representing ushpiz and Miriam with Timbrel. The ushpiz are the spirits of seven ancestors. Miriam is Moses's sister; she played a small drum when the Israelites crossed the Red Sea.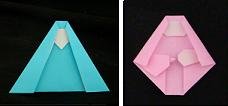 An origami Torah scroll can be made to help celebrate
Simchat Torah
. This model is an
action model
; it can slide in and out as if you were unrolling the scroll. It is made with two sheets of paper.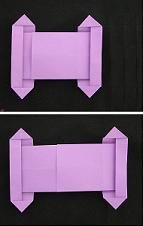 A paper menorah and dreidel can be made to celebrate Chanukah. These two items are easily recognized by Gentiles because Chanukah is so close to Christmas. Both the dreidel and the menorah are made with two sheets of paper each.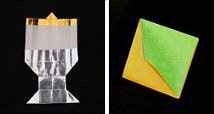 A
hamentash
(three cornered pastry) and a
megillah
(the Book of Esther) can be made to celebrate
Purim
. The
hamentash
is made with two sheets of paper. The
megillah
is an
action model
: it can be folded small and then pulled out as if you were to reading the scroll. The
megillah
is the last model in this book – it is the most challenging one to fold.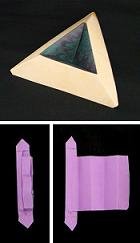 Passover can be celebrated by a number of origami models: a pyramid, frogs, a shank bone, Red Sea parting, two zuzim (coins), a chad gadya (young goat), and the 4 sons (Wise, Wicked, Simple, and Son Who Does Not Know How To Ask).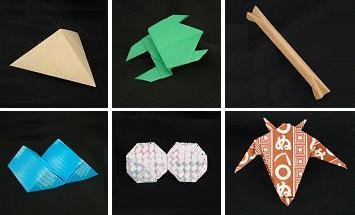 Lastly, the tablets of the Ten Commandments can be used to celebrate
Shavuot
.
As you can see, this book contains a lot about Jewish holidays and the events that brought them to be. The origami itself is fine, but the ability to connect the origami with the religion is this books strong point.
The instructions are in the form of line drawings accompanied by one or two helpful sentences in each step. All photographs in the book are black & white.