Fold Me A Poem
by Kristine O'Connell George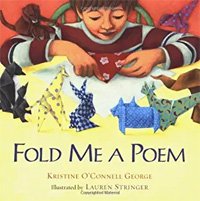 Fold Me a Poem
by Kristine O'Connell George is about a boy who spends his day folding origami animals. The story is in the form of 32 short poems which are very loosely connected to one another.
Illustrations are Lascaux acrylic: soft pastel colors. Interestingly, Lauren Stringer had no interest or knowledge of origami until she was commissioned to illustrate this book. She spent many months studying the art of origami before transforming the poems into pictures.
This book has a nice mix of paper animals incorporated into a child's world: origami snuggled alongside stuffed animals, origami beside building blocks, and origami slipped between the books on a shelf. Parents with children who enjoy origami will smile and nod knowingly: yes, paper creations are scattered on every counter-top and in every room.
This book does not contain instructions on how to fold origami models. Indeed, the models depicted in this picture book appear to be
wet-folded
, a technique that is challenging even for adults.