Easy Origami
by John Montroll
Easy Origami by John Montroll
is a classic! I love this book for its simplicity and clarity. The book has instructions for 30 projects and, at such a low price, it is a bargain not to be missed.
The models in this book are suitable for children and beginner origami enthusiasts. Models at the beginning of the book require 10 or less steps to complete. These are straight forward models that use valley and mountain folds only.
Dog, Cat, Rabbit,
Horse, Tulip, Fish,
Penguin, Cicada, and Tall Cap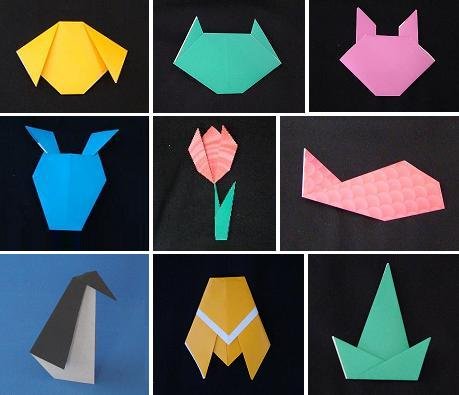 The next set of origami models require more than 10 steps to achieve; however, the models are nevertheless very easy to make.
Cup, Hat, Star,
Pigeon, Swan, and Pelican.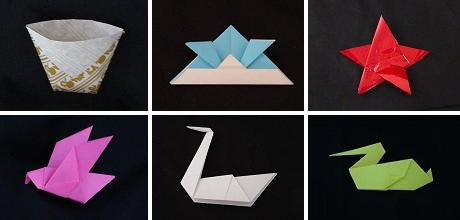 House, Piano, Oblong Box, and Fox
These 4 models are easy to make but one builds upon the next. The latter 3 models begin with the House as a starting point. Note how different they all look despite the fact that they are made from the same base.
Models in the middle of the book are a little more complex – though they are still very easy.
Sitting Fox, Pin wheel, Sailboat,
Carp, Boat, Pig,
Lantern, Butterfly, frog, and Waterbomb.
Some models require that you fold 3 or 4 layers of paper: this might be hard for young children since they do not yet have strong fingers.
Some models require that you pull out flaps that are hidden under other layers of paper.
Some models require that you tuck in (sink) folds of paper.
These steps add variety to the folding experience and introduces the folder to new methods without it being too challenging.

  Candy Box, Fancy Box
The last two models are probably the most difficult – yet again, those who are familiar with origami can make them in 5 minutes.
The boxes are not difficult to make but the process may seem abstract since it is not clear how the folds will generate the models shown.
However, that is the magic of origami: the ability to transform a flat sheet of paper into a 3 dimensional shape.
All in all, I highly recommend this book. The models are easy, and the diagrams are clear. This book has no color photos so there is no way to tell if your finished model is correct or not. With young children this may be a good feature – their work is perfect regardless how it comes out. Most of the instructions in this book are available on the internet for free – thus one might wonder why you would buy the book. The reason is this: despite the age of computers, people still love books. People still like to see instructions on printed paper. People still need to give birthday presents, so this book allows you to have all that.