3D Origami
by Boutique-sha Staff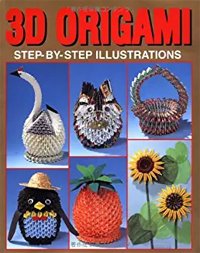 3D Origami
by Boutique-sha Staff is a comprehensive book teaching you how to create elaborate paper structures using simple triangular units. This art form is also called
Golden Venture Folding
or Chinese Paper Folding.
The book begins with instructions on how to fold the triangular units. There are many variations and ways to fold, but the result remains the same: small triangular units which have 2 points and 2 pockets. The units are assembled by inserting the points of one unit into the pockets of a second unit. The final model is built by adding more and more triangular units in different orientations.
Almost any paper can be used: origami paper, office paper, wrapping paper, pages from a magazine, and newspaper. Very light-weight paper such as tissue paper is not recommended as they tend to loose their shape. Very thick & coarse paper is not recommended since they add too much bulk and will tend to "explode" from their intended shape.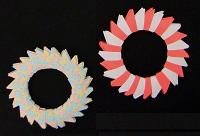 The beginning of the book has instructions to make 2 dimensional objects – this is to say, flat objects such as Tree, Christmas Tree, and Rings.
The book then progresses to more complex models such as:
– Turtle (30-40 units)
– Watermelon (215 units)
– Sunflower (100 units)
– Kingfisher (55 units), and
– Soaring Crane (85 units)
These have more volume and are certainly more interesting; but they are still considered "horizontal assemblies" since they involve only one row of triangular units.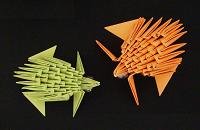 The book then continues with true 3D origami models. Easy projects include:
– a Stand (12 units)
– a Toothpick Holder (70 units)
– a Lemon (100 units), and
– a Hat (170 units)
Large 3D models require 300+ triangular units. These are not particularly difficult to make, but require much time and patience.
– a Temari Ball (75 units)
– a Swan (350-450 units)
– a Pineapple (375 units), and
– little creatures like this Penguin (350 units)

Organization of 3D Origami Book
This book is organized in a somewhat cryptic manner. For the most part, the first half of the book has color photos of the completed models, and the second half of the book has instructions on how to make the models. Though, it is not clear-cut since there are some instructions in the color photo section.
Instructions are in the form of:
– black & white photos,
– text, and
– symbols in the form of filled and empty triangles: ▲ ▼ Δ.
Using all three kinds of information, you are sure to find success!
Summary
In summary, this is a very good book with a total of 38 models which will keep you busy for many hours. However, to be able to accomplish these projects, you must have the desire and patience to fold many small triangular units and to painstakingly assemble them with the help of somewhat cryptic (but surprisingly complete) instructions.
A determined 10 year old can make most of these projects. Younger children can accomplish the 2D projects (tree, rings) but will need help in the larger projects.
If you love this book, be sure to buy the two subsequent books: "More 3D Origami" and "More and More 3D Origami"