What does origami and smocking have in common? The first thing you need to know before you answer that question is, "What is smocking"?
Smocking is an embroidery technique where fabric is bunched together with stitches. The stitches are often made in a grid pattern which causes the fabric to buckle in a organized and pleasing manner. Smocking is often done with soft fabrics such as silk or cotton. Smocking was most popular in the 18th and 19th century but today, you can still find dresses and pillow with smocking detailing.
[Photo: Portrait of a Young Man by Ambrosius Holbein 1518]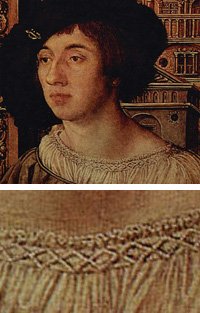 Origami has been around for even longer than smocking; however, we are not talking about any origami, rather we are talking about origami tessellations.
Origami tessellations
is a relatively new subcategory of paper folding. Here, a single sheet of paper is folded (no glue or cutting) to have repeating geometric shapes. The shapes lie adjacent to one another with no gaps or overlaps in between each other. Origami tessellations look like floor or bathroom tiles except that it is made of one sheet of paper and not multiple sheets. [Photo by
Andy Wilson
]
On the surface, it would seem that origami and smocking have very little in common: one is made with strong paper & folding while the other is made with soft fabric & sewing. However, both techniques involve manipulating the medium (paper or fabric) so some layers are hidden and other layers are exposed. These two methodologies can sometimes produce visually similar patterns.
In the case of origami tessellations, you can place the folded paper in front of a light source and the underlying layers become visible – that being a part of the art work. In smocking, the "wrong side" of the fabric is not intended for viewing.
Similarity in Origami and Smocking
Shown on the right is Ilan Garibi's "Brick" origami tessellation folded by Beth Johnson. You can learn how to fold the model with the help of Sara Adams' video.
Notice how the origami tessellation above is similar to the traditional Canadian Smocking shown below (from 1001 Fashion Trends).
Compare the crease pattern of the origami tessellation with the stitch pattern of the smocking: this demonstrates the huge difference between the two methodologies despite the fact that they produce visually similar results. [Photo from bethjohnsonorigami.com]
Diamond Corrugation and Honeycomb Smocking
Above is another example of how two totally different techniques can arrive at the same look. On the left is Ilan Garibi's Diamond Corrugation. On the right is Honeycomb smocking which you can also see
here
and
here
. Although it is made completely differently than how the smocking dress was made, the two share visual similarities.
In 2011,
Jeanine Mosely
noticed the similarity between tessellation origami and smocking. Inspired by the smocking patterns, she used mathematical formulas to transform paper into repeating, curved folds. The curved folds give the paper fluidity which is unique because most other origami tessellations are made with linear folds. [Photo from
here
]
MyCozyCo offers a tutorial on how to make a simple origami smocking project
here
. As well, Pinterest has some examples of smocking that has visual similarlity to origmai tessellations. Do you know of any other examples where origami tessellations and smocking produce similar patterns?
Let us know
and we'll add it to the list.
– books about smocking

– more about origami tessellations
– more about fabric folding