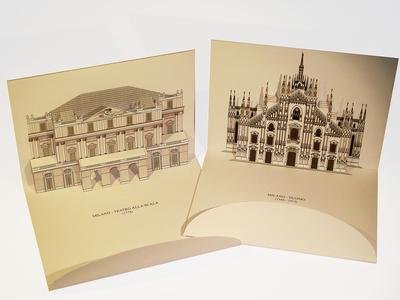 Monuments of Milan, Italy
by Giovannirussografico
(Limena, Padova, Italy)
Our POP-UP CARDS are an Elegant and Refined article, Ideal for every occasion, Unique of its kind thanks to the original Tridimensionality.
The study and attention to detail, as well as the high-quality materials used for their production, make them an Exclusive and Distinguishing item, too.
They can even be mailed without an envelope because of their innovative closure device. They are sold in the main World Art Cities as Rome, Venice, Milan, Florence, Padua, Verona, London, Bruxelles, Tokyo, New York etc.
But we don't make only POP-UP CARDS with monuments…
On clients' requests and so as to satisfy each specific requirement, we indeed create various tridimensional subjects, from the Trademark and/or Firm Logotype to the Industrial Product needing advertisement (this is ideal in case of exhibitions), from the Boutique to the prestigious Shop Window… And furthermore Famous Hotels, Vip Private Clubs, Historical Houses, Rinascimental villas as well as Mediaeval Castles…
Each subject can be realized with several kinds of paper and in different dimensions, it can be printed in one or many colors according to the specific needings. This way we offer an unlimited range of possible combinations, that is a really unique and inimitable product.
Our Pop-up postcards are 100% made in Italy.