Making Origami Vehicles
by Michael LaFosse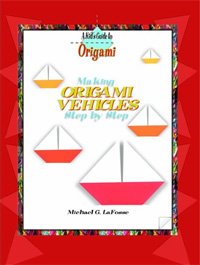 Making Origami Vehicles
by Michael LaFosse is one book in a 12-book series. This book is great for kids who are obsessed with vehicles and need their enthusiasm to be channeled into something constructive. What better than a book that teaches you how to transform paper into airplanes, jets, space shuttles, cars, trucks, sail boats, and submarines?
The Truck and the Car are made in a similar way. They use two sheets of paper: one for the wheels & body, and the second sheet for the top half of the car. Both are easy models to make and look great.
The space shuttle uses one sheet of paper whereas the airplane and the jet are made with 2 sheets of paper each.
The submarine can be made in only 4 steps, but in many ways, this model is the most challenging. The location as to where to fold is somewhat flexible resulting in a very different vehicle every time.
The sailboat is my favorite model in this book. It uses one sheet of paper and is cleverly designed. Easy to fold resulting in a recognizable boat.
The sailboat envelope is well designed. It is not hard to make but some of the folds may seem cryptic. Follow the instructions carefully and you will be rewarded with a beautiful self-locking envelope.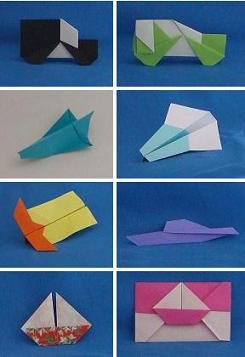 Summary of Making Origami Vehicles
All in all, Making Origami Vehicles is good book with a good selection of easy models representing the various forms of travel. I particularly enjoy the cars and boats but find the airplanes to be somewhat plain. Nevertheless, an excellent book to have either as a stand alone volume or as a member of the Kid's Guide to Origami collection.