Long Heart Bookmark
This long Heart Bookmark is made with a rectangular sheet of paper. The dimensions of the paper is not critical so as long as the paper is big enough for you to work with. A long rectangle will produce a longer stem on the heart. A wider sheet of paper will give you a larger heart. A reasonable starting size would be 2″ x 10″.
This model is relatively easy to make. The only tricky part would be step 9 where you have to tuck the paper underneath the top layer of paper. Make sure you keep checking with the images to make sure you are following the instructions properly.
Because the bookmarks have long stems, they can also be used as hearts-on-a-stick decorations when placed upright in a vase.
Long Heart Bookmark diagram
Valley fold and unfold along one end of the paper to get an X-shaped crease lines.
Make a horizontal mountain fold at the middle of the X-crease made above. Unfold.
Collapse the top of the paper into a waterbomb base (bring down the top-edge of the paper while pinching the left and right sides).

Fold the waterbomb base in half by bringing the tip to the base. Unfold.
Fold up the top-layer of the waterbomb base so it peels open the top part of the model. Next image is enlarged.
Align the paper and then press down to flatten the model.
– The middle (red dot) goes to the top-center.
– The side corners (green dots) goes down to the center bottom.
Note the location of the dots in the next image.

Fold in the left and right edges of the paper towards the middle. Unfold.
Fold the left-flap of paper towards the right to move it out of the way.
Refold the left edge of the paper inwards but be sure to tuck the paper underneath the waterbomb base.

Fold the top-flap back towards the left side of the model.
Repeat steps 8, 9 & 10 on the right side of the model.
Bend back the top part of the model so the section folds back and behind.

Turn the model over.
Fold back the tips of the 4 corners so you get a heart shape.
The rest is optional: you can fold back the stem so it is more narrow.

You can fold the bottom part of the model to give it a tapered shape. Once you are satisfied, then the long Heart-Bookmark is done.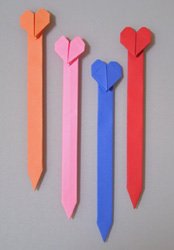 – photo-diagrams
– more origami hearts
– free origami instructions