Lamb Chop Cuffs
These paper "lamb chop cuffs" are easy to make and will add class to your dinner table. They will even help you keep your fingers clean while you eat. You will need:
– scissors,
– tape,
– a piece of paper approximately 4″ x 5″
Fold the paper in half lengthwise so that it is approximately 2″ wide and 5″ long.
Use scissors to cut multiple slits down the length of the paper. Cut the folded side and leave the raw edges uncut. Cut half way down the paper but do not cut all the way so the paper is severed into slivers.
Wrap the paper around the base of a drumstick. Use tape to keep lamb chop cuffs secure.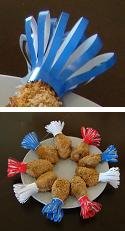 Tip 1: To make the lamb chop cuffs less angular in appearance, unfold the paper at step B and relax the crease by bending it backwards a little. This will soften the fold and give curvaceous cuffs.
 
Tip 2: Always be kind to the chef.