Origami Heart Corner Clip

This Heart Corner Clip has duo function: it can serve as a book mark, or it can serve as a paper clip.
For most of us, a bookmark to keep a page in a novel is just fine. However, some of us may be in need of a metal-less paper clip. "Why would you need a non-metal paper clip?" you might ask. Well, turns out that if you send mail to someone in prison, your mail cannot have metal clasps, staples, or metal paper clips (just for the record, you can't send tape, glue or string either). In these cases, this origami heart clip is perfect. It holds papers together without using metal components such as staples or paperclips.
Heart Corner Clip instructions
Start with a waterbomb base. To do this, make the valley and mountain folds as shown, then collapse the paper into the classic, 4-flapped triangle called a waterbomb base.
Fold the peak of the waterbomb to the base. Unfold.
Lift up the top-layer of the waterbomb base.
In transition: first get the base of the paper to meet up with the peak of the waterbomb (red dot). Next, bring the corners of the waterbomb to the peak (green dots). Squash down to make valley folds and the paper will have the shape of an upside-down house.
Fold down the upside-down house.

Fold the bottom of the "house" half way up.
Fold down the top-layer of paper (left and right sides)

In transition: as in step 3, the paper will peel open. Press down on the left and right sides to squash the paper flat.
Almost done: fold the small corners up as shown. This will give make an upside-down heart-shape.

Fold up the tips of the points so the model is more rounded (arrow heads).
Fold up the bottom half of the heart (reverse of step 4).

Done!
To use the origami heart as a bookmark, simply slide the origami heart onto the corner of the a page. If you make a bookmark with a large enough paper, it will stay in place. In your model is small and tends to slip off, it will stay in place if you close the book.
To use the model as a paper clip:
1 – stack papers evenly,
2 – slide the Heart Corner Clip on to the corner of the pages,
3 – mountain fold the back corner of the origami paper clip. This fold will lock the sheets of paper in place. Works like a charm!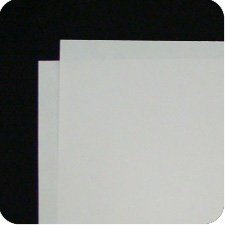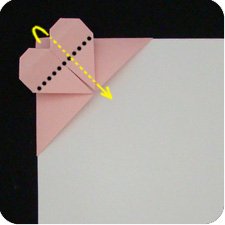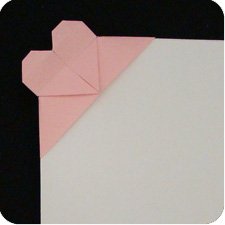 This video by Sweet Paper also shows a metal-less origami paper-clip