Learn to make this easy Easter box. The instructions are from the traditional magazine box. Project is suitable for children with adult supervision.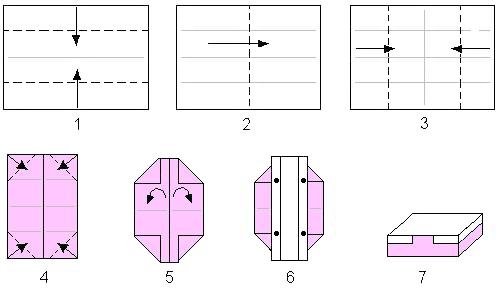 Easy Easter Box Instructions
Take a rectangular piece of paper and fold it in half lengthwise. Fold the paper into quarters by folding the top and bottom edge towards the center line. Unfold.
Fold the paper in half crosswise. Unfold.
Fold the paper into quarters crosswise by folding the left and right edges towards the center line.
Fold the four corners in.
Pry open and fold back the edges of the paper. This makes a folded edge along the middle of the paper.
Pull up the paper in the areas marked with a black dot. This will cause the paper to pop open into the shape of a box.
Some interesting variations include:
Decorate the box with Easter themed cutouts.
Turn the box into a rabbit by gluing on ears and a cotton ball tail.
Convert the box into a basket by taping/gluing a strip of paper as a handle.