Origami Beating Heart

This origami beating heart can be a part of a magic show! With just a pinch of a finger, the paper heart will pulsate making it look like a beating heart. You can make it beat fast, or make it beat slow.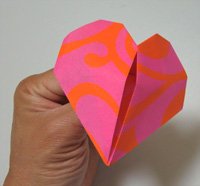 The good part is that it is easy to fold and if you start with a square sheet of paper, you will have enough to make two hearts: two hearts that beat as one. How romantic!
Beating Heart Instructions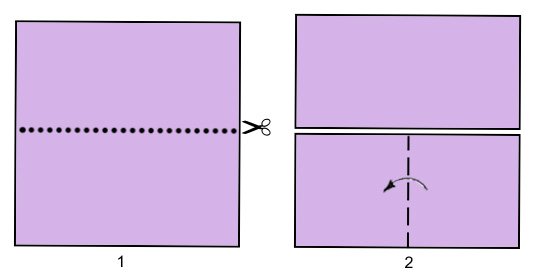 Start with a square sheet of paper and cut it in half to get two rectangles.
Use one of the rectangles to make one heart. With the color-side facing up, fold the rectangle in half.
Image is enlarged. Fold down the top-right corner to make a diagonal fold. Unfold.
Fold the top-right corner down again so it meets with the crease made above. Unfold.
Peel open the two layers of paper and squash down.
Press the paper flat along the creases made in step 4.
At the back side of the model, unfold one of the flaps (see next image). Rotate the model quarter turn clockwise.
Perform a petal fold. To do this, work with the top layer of paper: fold the top-left and top-right edges towards the middle. Unfold.
Pull down the top flap (red dot) and allow the paper to fold along the creases made in step 8. See next image for completed petal fold.
Shape the heart: Fold the top corners down to get the top of the heart. Fold in the left and right corners.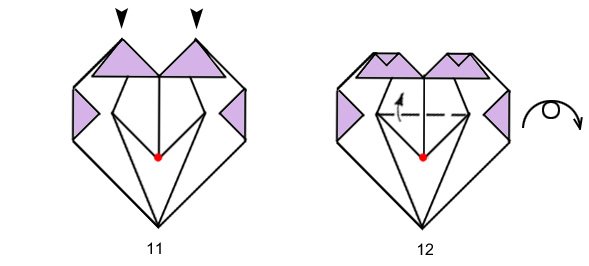 To make the heart less pointy, fold the tops down a little.
Lift the small triangular flap so it is perpendicular to the heart. You will pinch this flap to make the heart beat.
Turn the model over and you're done.


To make the paper heart look like it is beating, pinch the perpendicular flap (step 12) between your thumb and forefinger. Hold it near the base so your fingertips are touching the heart. Pinch the flap and the heart will buckle making it look like it is pulsating. Cute!
– photo diagram
– more Origami Heart diagrams
– free origami instructions
– Home Page
– Site Map
There are many types of origami hearts available for you to choose from. It is a popular model since everyone loves to be loved!