Fortune Teller (Cootie Catcher, Salt Cellar)

1: Start with a square piece of paper. Fold it in half left to right and unfold. Fold the paper in half again from top to bottom, unfold.

2: Locate the center where the two crease lines intersect. Fold the 4 corners of the paper to the center.

3: Turn the paper over.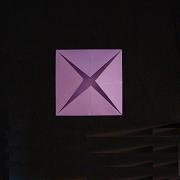 4: Repeat: fold the four corners to the center of the paper again.

5: Fold the paper in half top to bottom. Unfold.

6: Fold the paper in half again from left to right. Unfold.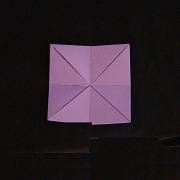 7: The model should look like this; slightly concave or bowled in shape.

8: Keeping the model flat on the table, slowly bring the four corners together.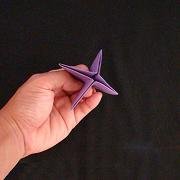 9
: Place your hand underneath the model and hold the model together so the four corners touch.

10: Use your fingers to peel open a flap of paper. The paper should pop outwards.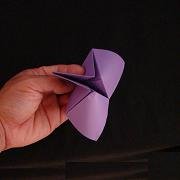 11:Repeat with the other 3 corners.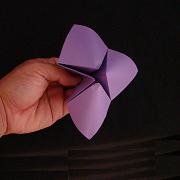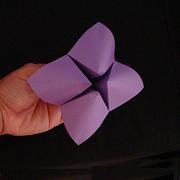 Congratulations! You've made a Fortune Teller, also called a Cootie Catcher or a Salt Cellar.
How to Play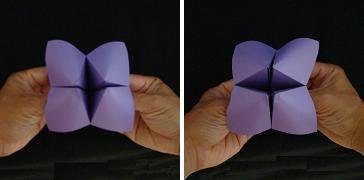 Hold the model from underneath by place index fingers and thumbs into the pockets under the flaps. Move the fingers up & down or left & right to make this origami model into a puppet with a mouth. If you pretend to eat bugs or other cooties, then it is a Cootie Catcher.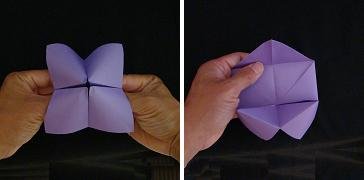 Another way to play with the origami model is to unfold the model slightly and write messages inside. Children can sing a song or count and then unfold a section of the model to read the message. If the messages are written as predictions such as "You will meet someone special today" then the model can tell your future: a Fortune Teller!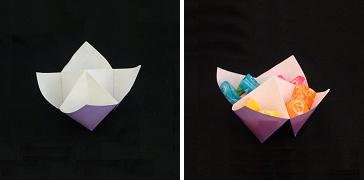 A third way to use this origami model is to invert it and use it as a candy dish. In this orientation, the model is called a Salt Cellar.
See video of fortune teller in action